Up & Coming for McKenna Quinn
Summer is finally upon us and the Texas heat isn't the only thing that's blazing! McKenna Quinn is on the move, traveling throughout the country with exciting events on the itinerary.
First stop: Sonoma, California, June 21-22
McKenna Quinn was a vendor at the annual Congressional Sportsmen Shoot held at the beautiful Wing and Barrel Ranch in Sonoma. What an amazing trip and an honor to get to outfit the ladies of the Congressional Sportsmen's Foundation. CSF works tirelessly to protect our natural resources. It was also quite the honor to see Jules McQueen named the CSF's first female ambassador! We are so looking forward to outfitting her with the latest MQ pieces in her upcoming CSF events. Jules and CSF work tirelessly to conserve the outdoor passions we have come to love and appreciate, and take great pride in introducing new people to the outdoors.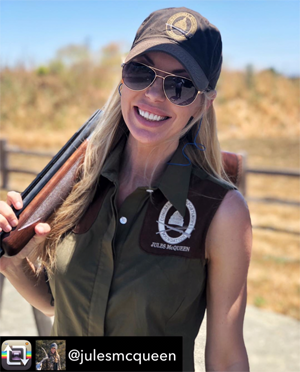 Next stop on our adventures? Aspen, Colorado, July 12-21 from 10:00AM to 6:00PM daily.
Join us for three full days of non-stop-shopping opportunities held in the library of Hotel Jerome in Aspen. McKenna Quinn will join other talented artists and designers such as Ala Von Auersperg, known for detailed paintings on silk kaftans, linens and mesh (https://alavonauersperg.com) In addition, the event will feature Michelle Henderson's luxurious hand-embroidered custom linens (https://lorolino.myshopify.com), internationally acclaimed jeweler, Joe Pacetti, and his collection of fine jewelry (https://www.jpacetti.com), and one-of-a-kind- gold jewelry crafted by atelier in Africa (https://www.shompolecollection.com) . This is one you certainly don't want to miss!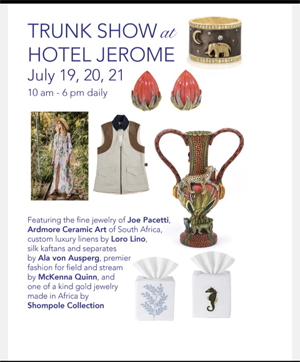 Fast forward to August, you can find MQ in the following locations…
August 23rd, we will be at Miller's Point Outfitter's located in Tyler, Texas, for an exclusive trunk show with Stewards of the Wild. Let us get you ready to hunt this season with the upmost stylish, yet functional, pieces.
A few days later on August 25th, McKenna Quinn will get you ready for fall hunting with a Ladies' Clay Shoot at the Big Easy Ranch located in Columbus, Texas. The morning shoot will consist of 76 targets to be followed by lunch at the clubhouse. Did we mention, rose wine? Sign me up!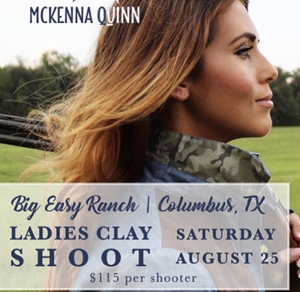 For more information or if you would like to be a vendor or sponsor, please contact amber@shopmckennaquinn.com
Looking ahead to the cooler months, we're headed to South Texas, Pearsall, to be exact, on September 8th for a dove season kickoff hunt! Dinner will be included for this event, and will be catered by Chilitos Latin Fusion.
Lastly, MQ will be hosting a Ladies Pheasant Hunt in Pierre, South Dakota at the Cheyenne Ridge Lodge on October 18th through the 21st. The event will include two days of pheasant hunting, mouth-watering food and most importantly, camaraderie. Interested? We would love to have you join us!
Of course, if you'd like to gear up ahead of time, be sure to check out our brand new polo and sleeveless shirts. They are sure to become a staple in your upland-hunting wardrobe this summer. You can shop online 24/7, but we are proud to announce our merchandise is being carried at three new retail locations to those already listed on the website. These retailers are Los Cazadores in Pearsall, Texas, Joseph's Vintage Guns in Richmond, Texas, and Cheyenne Ridge in Pierre, South Dakota.
Where we will end up next? You'll just have to wait and see…!