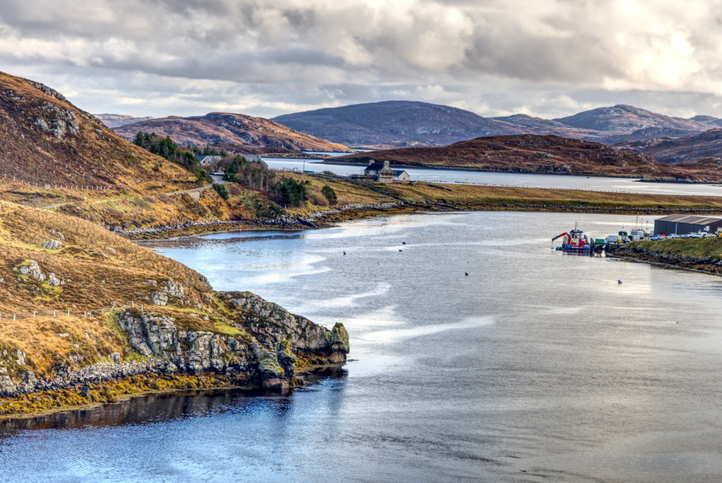 Few places in the world can inspire one to silence when first seen. The heathered beinn (Scottish for hill) stretch as far as one can see, with rocky outcrops covering the glen below. Water from purest rain rushes down the glen pooling into Lochs containing sea trout and salmon. The heather blankets the glen offering generous cover to the Red Grouse who populate its vast carpet of green and purple. The hillsides brim with local sheep that outnumber the two-legged population 20 to 1.
Then there are the stag. Bedding and grazing along the slopes, they are the majestic sight that crowns the beauty of Harris. Upon landing in Stornoway, you proceed on two-lane roads out of the city along the south coast where half-way the road turns to single lane with passing turnouts. Sheep are a standard sight and they know who's in charge of the road and it's not you. A short hour drive, you arrive at Morsgail Estate, your home for your Hebridean adventure. Now words come to you, and most use the same word--amazing.
McKenna Quinn has once again partnered with friends at Catskills Casts and Coverts to offer this incredible sporting adventure in the Outer Hebrides of Scotland next September. You will stay at the traditional-style lodge which is in a spectacular position, nearly two miles from the main road and with magnificent views straight out over Loch Morsgail. The sport is spectacular. Loch fishing with expert gillies for seatrout and salmon and walked up grouse over wide-casting pointers. Walking the marsh, you'll also flush snipe and in the evenings hunt ducks. You'll be drawn to the spectacular scenery, experience a world few have seen unless born to it, and dine and rest well in finest comfort.
Oh, and the sheep, they'll be watching. Don't give them an excuse to laugh. Darn sheep.
The Hebridean Sporting Experience
September 14 through September 21 2024 email Amber@shopmckennaquinn for more information
Included:
• Two days of guided fishing
• Two days of guided wingshooting
• One day of sightseeing
• Guide fees
• Equipment rental
• Lodging
• All meals prepared by a private chef
• House wine included with dinner
• Transportation to & from Stornoway Airport
Not Included:
• Flights to Stornoway Airport
• Stag stalking
• Gratuities for Guides and Staff